Serum, Nexus 4 and Omnisphere 2 VST : Top Free alternatives
Join 22 000 + DJs & Music Producers 🎁
Get MUSICIANS TIPS & FREEBIES
Het is geweldig om de beste huidige VST-synths in je DAW te hebben: Nexus, Omnisphere en Serum.
But all this comes at a cost : here are the best free alternatives you need to install into your DAW right now
Surge is een volledig uitgeruste synth waarmee je de beat kunt maken en aanpassen die je wilt. De meerdere presets en effecten zullen elke producer blij maken: essentieel om in je DAW te hebben.
Functies :
2285 patches
614 wavetables
24 effecten
12 LFO-eenheden
2 filters in 8 eenheden
12 veelzijdige oscillatoren oscillator
Download Surge: hier
---
Helm is een van mijn favoriete synths: het biedt nieuwe geluiden die het muzikale werk van avontuurlijke producers kunnen aanvullen.
Functies :
ADSR
Witte ruis
Oscillatoren
Filter
Stotteren
Stapsequencer
Helm downloaden: hier
---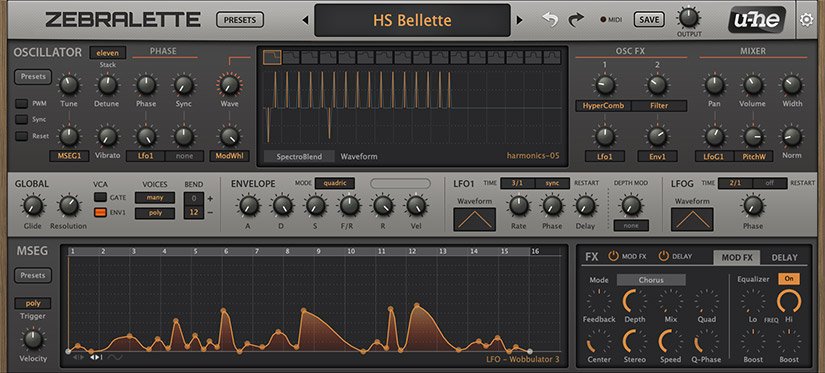 Z ebralette is de gratis light-versie van de Zebra 2- synthesizer, verkrijgbaar voor $ 199. Het biedt prettige functies en voorinstellingen die u zeker zullen bevallen.
Functies :
Stereo-VCA
ADSR
2 LFOS
24 Spectrale effecten
Oscillator
polyfoon
Refrein
Phaser
EQ
Vertraging

Download Zebralette: hier
Vital is een gratis synth die kleur zal toevoegen aan je muzikale projecten. Deze vele attributen en functionaliteiten mogen niet over het hoofd worden gezien.
Verder zijn er veel geweldige gratis voorinstellingenpakketten voor veel muziekgenres beschikbaar op het web.
Download Vital : hier
Afro Keyz Lite is een gratis synth met 6 presets gespecialiseerd voor een specifiek type beats: beats met afro-tendens.
Zoals :
Afrobeats
Reggaeton
R&B
Funkfeestje
Ziel
Reggae
Danszaal…
Dit maakt het minder een generalist en minder tijdrovend voor de producer om het ideale geluid voor dit soort muziekproductie te vinden.
De Pro-versie bevat 40 presets die klaar staan om je instrumentals te verfraaien.
Functies :
ADSR
Toonhoogte
LFO-snelheid
Filters
Sleutels
Download Afro Keyz: hier
#1 Afro Musicians App
Created By Musicians from Africa & West Indies
All-in-One Access : Royalty-free Afro Samples Library, AI Mastering, Plugins, Accapellas & Instrumentals Extractors
Subscribe To Our Newsletters : Get Freebies
Never Miss Our Latest Musicians Resources, News & Offers