Amplifihub : #1 Beatstars Alternative in Africa [They are actually CLOSED ]
Join 22 000 + DJs & Music Producers 🎁
Get MUSICIANS TIPS & FREEBIES
As a music producer, you probably know the music marketplaces : Beatstars, Airbit and Traktrain. I have good news for you : if you are an African music producer, a platform has been created especially for you, called Amplifihub. This jewel contains 4 amazing features that we will see below
Beatstars is the world's number one marketplace for selling beats. Most of the songs currently heard on the international radios are produced by producers belonging to the Beatstars community.
After Beatstars, there are other competing marketplaces:
---
Amplifihub : Beatstars from Nigeria
---
Created by sound engineers from Nigeria and hit music producer Sarz, Amplifihub's mission is to enable independent African producers to monetize their talent in music production via the Internet.It is a site in the same line as Airbit, Beatstars and Traktrain, specialized in African sounds.
Bovendien is het alles in één omdat het voorstelt:
een beats-winkel
een muziekdistributeur voor het maken van royalty's op streamingplatforms: Spotify, Apple Music en meer.
een bibliotheek met Afrikaanse monsters en acapella's
1st Feature : Beats Store
Zoals op elke klassieke muziekmarkt, is de belangrijkste dienst van Amplifihub om producenten in staat te stellen hun beats gratis te verkopen in ruil voor een procentuele commissie.
---
2nd Features : Free Music Distribution on Streaming Platforms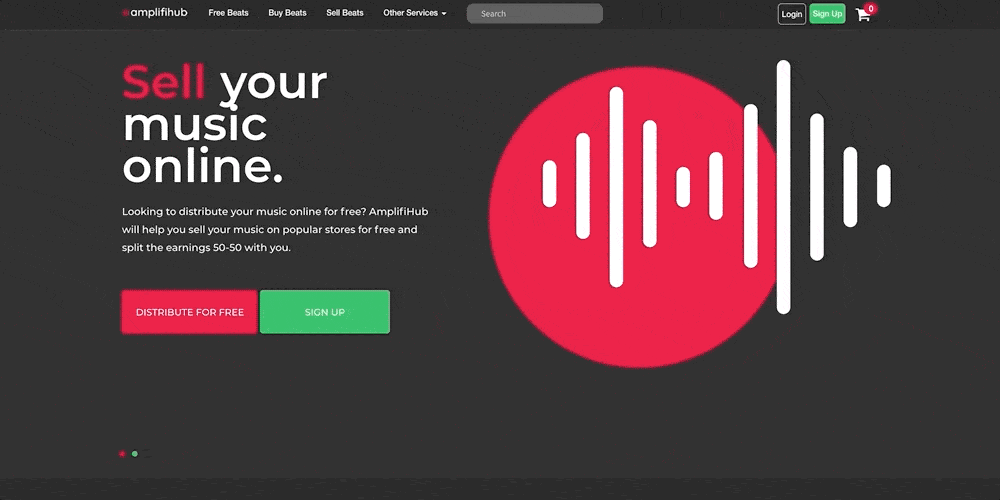 Deze marktplaats voor Afrikaanse muziek biedt ook gratis distributie van je beats (zoals albums met instrumentale nummers) op streamingplatforms: Spotify, Apple en meer. Dit alles wordt gedaan, met gedetailleerde statistieken, in ruil voor het houden van 50% van je royalty's verdiend met je audiostreams.
---
3rd Features : Beats Catalogue Storage
Het derde kenmerk van Amplifihub is de mogelijkheid om je beats op hun site op te slaan. Hiermee kunt u:
beveilig je beats, vooral degene die nog niet zijn uitgebracht, zodat ze privé blijven
werk online met andere producers of artiesten
---
4th Features : Samples Library
Amplifihub also offers Samples loops packs, MIDI files and more for your African beats.
Als je meer van dit soort inhoud wilt, lees dan gerust ons artikel over sites met meer dan 1000 gratis Afrikaanse voorbeelden: hier
#1 Afro Musicians App
Created By Musicians from Africa & West Indies
All-in-One Access : Royalty-free Afro Samples Library, AI Mastering, Plugins, Accapellas & Instrumentals Extractors
Subscribe To Our Newsletters : Get Freebies
Never Miss Our Latest Musicians Resources, News & Offers