Amplifihub : #1 Beatstars Alternative in Africa [They are actually CLOSED ]
Join 22 000 + DJs & Music Producers 🎁
Get MUSICIANS TIPS & FREEBIES
As a music producer, you probably know the music marketplaces : Beatstars, Airbit and Traktrain. I have good news for you : if you are an African music producer, a platform has been created especially for you, called Amplifihub. This jewel contains 4 amazing features that we will see below
Beatstars is the world's number one marketplace for selling beats. Most of the songs currently heard on the international radios are produced by producers belonging to the Beatstars community.
After Beatstars, there are other competing marketplaces:
---
Amplifihub : Beatstars from Nigeria
---
Created by sound engineers from Nigeria and hit music producer Sarz, Amplifihub's mission is to enable independent African producers to monetize their talent in music production via the Internet.It is a site in the same line as Airbit, Beatstars and Traktrain, specialized in African sounds.
Además, es todo en uno porque propone:
una tienda de beats
un distribuidor de música para hacer regalías en plataformas de transmisión: Spotify, Apple Music y más.
una biblioteca de muestras africanas y acapellas
1st Feature : Beats Store
Como en cualquier mercado de música clásica, el servicio principal de Amplifihub es permitir que los productores vendan sus ritmos gratis a cambio de un porcentaje de comisión.
---
2nd Features : Free Music Distribution on Streaming Platforms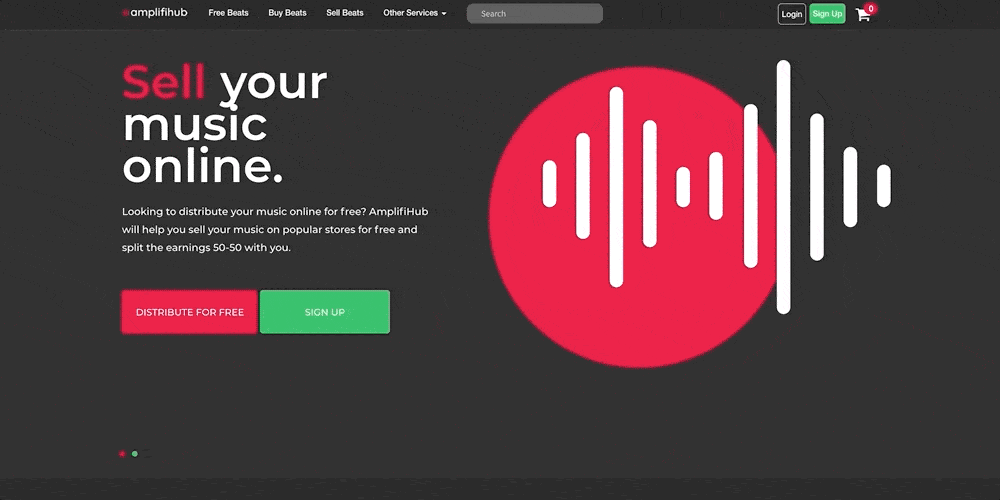 Este mercado de música africana también ofrece distribución gratuita de sus ritmos (como álbumes de instrumentales, por ejemplo) en plataformas de transmisión: Spotify, Apple y más. Todo esto se hace, con estadísticas detalladas, a cambio de quedarse con el 50% de sus regalías obtenidas de sus transmisiones de audio.
---
3rd Features : Beats Catalogue Storage
La tercera característica de Amplifihub es la posibilidad de almacenar sus ritmos en su sitio. Esto le permitirá:
Asegure sus ritmos, especialmente los que aún no se han lanzado, para que permanezcan privados
trabajar con otros productores o artistas en línea
---
4th Features : Samples Library
Amplifihub also offers Samples loops packs, MIDI files and more for your African beats.
Si desea más contenido de este tipo, no dude en consultar nuestro artículo sobre sitios con más de 1000 muestras africanas gratuitas: aquí
#1 Afro Musicians App
Created By Musicians from Africa & West Indies
All-in-One Access : Royalty-free Afro Samples Library, AI Mastering, Plugins, Accapellas & Instrumentals Extractors
Subscribe To Our Newsletters : Get Freebies
Never Miss Our Latest Musicians Resources, News & Offers