Marvin Gaye Synth VST : PG-8X, Free JX-8P VST emulation
Join 22 000 + DJs & Music Producers 🎁
Get MUSICIANS TIPS & FREEBIES
If you want to produce the 80s sound for your music productions, try this free JX-8P VST : Legendary synth of Marvin Gaye's and Michael Jackson hits
Marvin Gaye : Motown legend
Marvin Gaye, born Marvin Pentz Gay Jr. on April 2, 1939 in Washington, D.C. and died murdered on April 1, 1984 in Los Angeles, is an American singer and songwriter.
He met great success in the 1960s as one of the star singers of the Motown label and published solo or duo several classics of popular music of the twentieth century.
In 1971, Marvin Gaye released What's Going On (ranked #6 on Rolling Stone magazine's list of the 500 greatest albums of all time in 20033), a concept album that he composed entirely and that included several songs that would be coverd over the following decades.
He continued to be successful in the 1970s, exiled to Europe, then left Motown for CBS and recorded in 1982 the album Midnight Love containing the title Sexual Healing. The album as the song triumph in several countries.
On April 1, 1984, Marvin Gaye was killed by his father, a pastor, after a family dispute, the day before his 45th birthday.
Marvin Gaye was honored posthumously by several institutions. He received a Grammy Lifetime Achievement Award and was inducted into the Rock and Roll Hall of Fame.
Ten eerste, wat is JX-8P synth?
JX-8P is een vlaggenschip analoge synth uit de jaren 80, uitgebracht op hetzelfde moment als de legendarische Yamaha synths, ook nietjes in pop en urban muziek.
De JX-8P werd gebruikt in de meest bekende nummers van deze tijd, zoals de hits van Michael Jackson (Thriller) of Marvin Gaye (Sexual Healing).
Er werd een meer afgezwakte versie van deze synth uitgebracht: de Roland JX 8P die minder succes had omdat hij op hetzelfde moment werd uitgebracht als de Yamaha DX7, die de laatste overrompelde.
Zo werd een uitstekende gratis emulatie geboren uit de JX 8P: PG-8X
De JX-8P produceert geluiden door middel van subtractieve synthese. Het maakt gebruik van digitaal gestuurde analoge DCO-oscillatoren voor meer stabiliteit dan VCO's. Elke stem gebruikt 2 DCO's. De DCO's kunnen op verschillende manieren met elkaar worden gesynchroniseerd.
Functies :
DCO's: 2 per stem
Zaagtand, puls, rechthoek, witte ruis golfvormen
LFO : sinusvormig, rechthoekig of willekeurig. Toewijsbaar aan DCO, VCA of VC
Filter: 12db/oct laagdoorlaat, met HPF.
Enveloppen: 2 ADSR-enveloppen toewijsbaar aan DCO, VCA, HPF.
Analoog refrein 2 modi
---
PG-8X: Dichtstbijzijnde vrije VST vergelijkbaar met JX-8P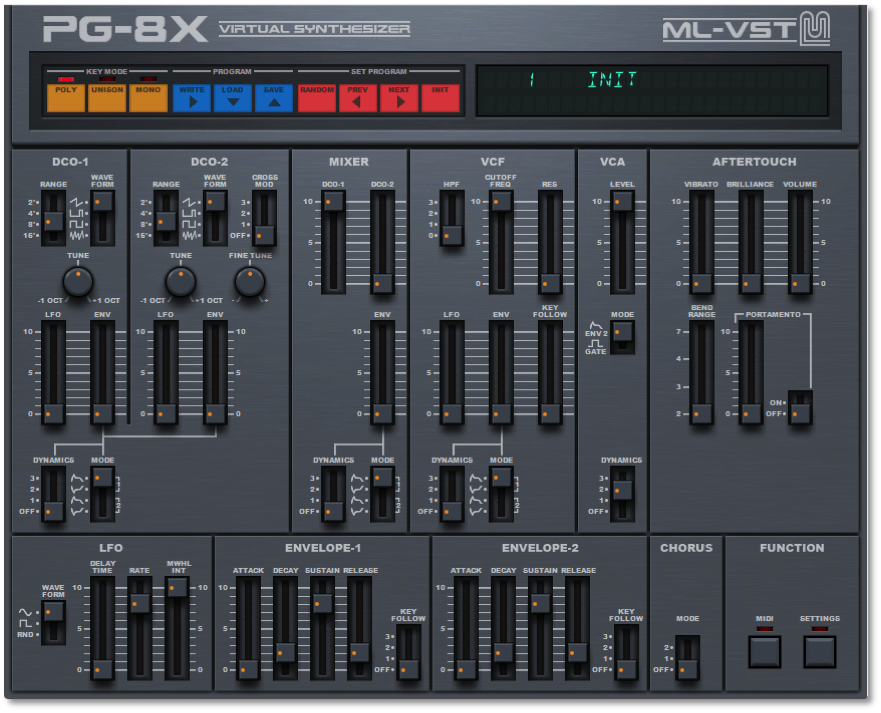 Deze uitstekende kopie van de Roland-synth, gemaakt door Martin Luder, mag niet ontbreken in je VST-collectie.
Het bevat:
JX-8P Gelijkaardig ontwerp
12-stemmige polyfonie
Zaag, Vierkant, Puls, Ruis
Harde synchronisatie
Ringmodulatie
Envelop generatoren
Filters
Stereokoor
Krijg de jouwe gratis: hier
#1 Afro Musicians App
Created By Musicians from Africa & West Indies
All-in-One Access : Royalty-free Afro Samples Library, AI Mastering, Plugins, Accapellas & Instrumentals Extractors
Subscribe To Our Newsletters : Get Freebies
Never Miss Our Latest Musicians Resources, News & Offers