Amplifihub : #1 Beatstars Alternative in Africa [They are actually CLOSED ]
Join 22 000 + DJs & Music Producers 🎁
Get MUSICIANS TIPS & FREEBIES
As a music producer, you probably know the music marketplaces : Beatstars, Airbit and Traktrain. I have good news for you : if you are an African music producer, a platform has been created especially for you, called Amplifihub. This jewel contains 4 amazing features that we will see below
Beatstars is the world's number one marketplace for selling beats. Most of the songs currently heard on the international radios are produced by producers belonging to the Beatstars community.
After Beatstars, there are other competing marketplaces:
---
Amplifihub : Beatstars from Nigeria
---
Created by sound engineers from Nigeria and hit music producer Sarz, Amplifihub's mission is to enable independent African producers to monetize their talent in music production via the Internet.It is a site in the same line as Airbit, Beatstars and Traktrain, specialized in African sounds.
De plus, il est tout-en-un car il propose:
un magasin de battements
un distributeur de musique pour faire des redevances sur les plateformes de streaming: Spotify, Apple Music et plus.
une bibliothèque d'échantillons africains et d'acapellas
1st Feature : Beats Store
Comme sur tout marché de la musique classique, le principal service d'Amplifihub est de permettre aux producteurs de vendre leurs beats gratuitement en échange d'un pourcentage de commission.
---
2nd Features : Free Music Distribution on Streaming Platforms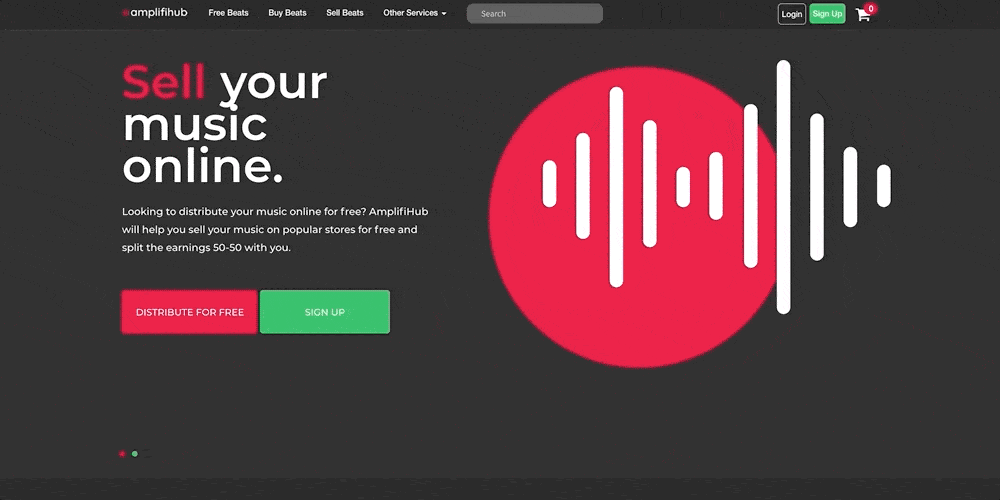 Cette place de marché de la musique africaine propose également la distribution gratuite de vos beats (sous forme d'albums d'instruments par exemple) sur les plateformes de streaming: Spotify, Apple et plus. Tout cela se fait, avec des statistiques détaillées, en échange de la conservation de 50% de vos redevances gagnées sur vos flux audio.
---
3rd Features : Beats Catalogue Storage
La troisième fonctionnalité d'Amplifihub est la possibilité de stocker vos beats sur leur site. Cela vous permettra de:
sécurisez vos beats, en particulier ceux qui ne sont pas encore sortis, afin qu'ils restent privés
travailler avec d'autres producteurs ou artistes en ligne
---
4th Features : Samples Library
Amplifihub also offers Samples loops packs, MIDI files and more for your African beats.
Si vous voulez plus de ce type de contenu, n'hésitez pas à consulter notre article sur les sites avec plus de 1000 échantillons africains gratuits: ici
#1 Afro Musicians App
Created By Musicians from Africa & West Indies
All-in-One Access : Royalty-free Afro Samples Library, AI Mastering, Plugins, Accapellas & Instrumentals Extractors
Subscribe To Our Newsletters : Get Freebies
Never Miss Our Latest Musicians Resources, News & Offers